Mac World from Macworld
New iMac Pro still coming, but not soon
Apple first introduced the iMac Pro five years ago at WWDC 2017. It then went on sale in December 2017. But the iMac Pro wasn't long for this world: In March 2021 Apple announced that it was discontinuing the iMac Pro.
However, the iMac Pro might not be gone for good, there are reports that Apple could soon revive the old brand with a brand new iMac Pro. Read on to find out when it could launch and what features it might offer.
You might be thinking these rumours were laid to rest when Apple discontinued the 27in iMac in March 2022 – introducing the Mac Studio and Studio Display in its place. Is there a need for a new iMac Pro now the Mac Studio has arrived? We think there will always be room for a pro desktop with a large screen built in. Read more about the future of the iMac in 27in iMac discontinued, but not necessarily dead.
Will there be an iMac Pro 2022
For some time there have been rumors that a new iMac model with a mini-LED screen with ProMotion technology is in the pipeline. There have been reports that Apple intends to revive the name iMac Pro for this new iMac.
A tweet from the now retired technology leaker Dylandkt back in October 2021 described the new iMac as an iMac (Pro). He wrote:
iMac (Pro)
Promotion and Mini Led
Base model 16gb Ram 512gb Storage
M1 Pro and Max
Dark bezels
HDMI, SD Card, Usb C
Similar design to iMac 24 and Pro Display XDR
Starting price at or over 2000 dollars
Ethernet on brick standard
Face ID was tested (Not confirmed)
1H 2022
— Dylan (@dylandkt) October 30, 2021
Dylan wasn't alone in his predictions about a new iMac Pro. Display analyst Ross Young also made many observations that a new iMac was coming based on sightings of 27-inch displays. Young later admitted that these sightings could have been in relation to the Studio Display, which subsequently launched. But while it's feasible that the rumors pointing to this new iMac Pro were based on the Studio Display, the abundance of information related to a new iMac can't be ignored.
Even Mark Gurman of Bloomberg has indicated that a new iMac Pro is still coming. In a January 2022 PowerOn Newsletter, Gurman wrote that: "The company [Apple] has a bevy of new pro Macs in the works based on the M1 Pro and M1 Max chips that are already inside the MacBook Pro. That includes a smaller Mac Pro with up to 40 CPU cores and 128 graphics cores, a new Mac mini, and a large-screened iMac Pro."
Gurman was unfazed by the release of the Mac Studio and the removal of the 27in iMac from the line up following the March Apple event. He wrote in April 2022: "For those asking, I still think an iMac Pro is coming. It just won't be anytime soon."
2022 iMac Pro: Release date
If these insights are correct, and there is indeed an iMac Pro in the works at Apple, when can we expect to see it?
In February 2022 Bloomberg's Mark Gurman stated that "several new Macs" will be revealed at WWDC in June. However a lot has happened since February and now a later release is looking more likely. As per the April 2022 report above, Gurman doesn't think that the iMac Pro will be here "anytime soon".
In March an unverified Twitter account for analyst Ming-Chi Kuo stated that an iMac Pro won't ship until 2023.
2022 iMac Pro: Design & colors
In his 31 July 2021 PowerOn newsletter Bloomberg's Mark Gurman suggested that the new iMac Pro will have "a similar design to the current M1 iMac." We think it likely that the iMac Pro will borrow some of its design inspiration from the 24in iMac. Apple offers the 24-inch iMac in several color choices, but there haven't been reports on what color choices Apple will use for the iMac Pro. To create a differentiation between the consumer and pro levels, Apple may decide on different color choices like the iPhone Pro, or stick with the traditional silver like that on the 27-inch iMac or Space Gray like on the discontinued iMac Pro.
Another difference we could see on the larger iMac is dark bezels rather than a white border around the screen. Read Why we are disappointed in by the new iMac design. There may also be a notch as there is with the 14in and 16in MacBook Pro. This could allow Apple to extend the height of the screen as it has with these models.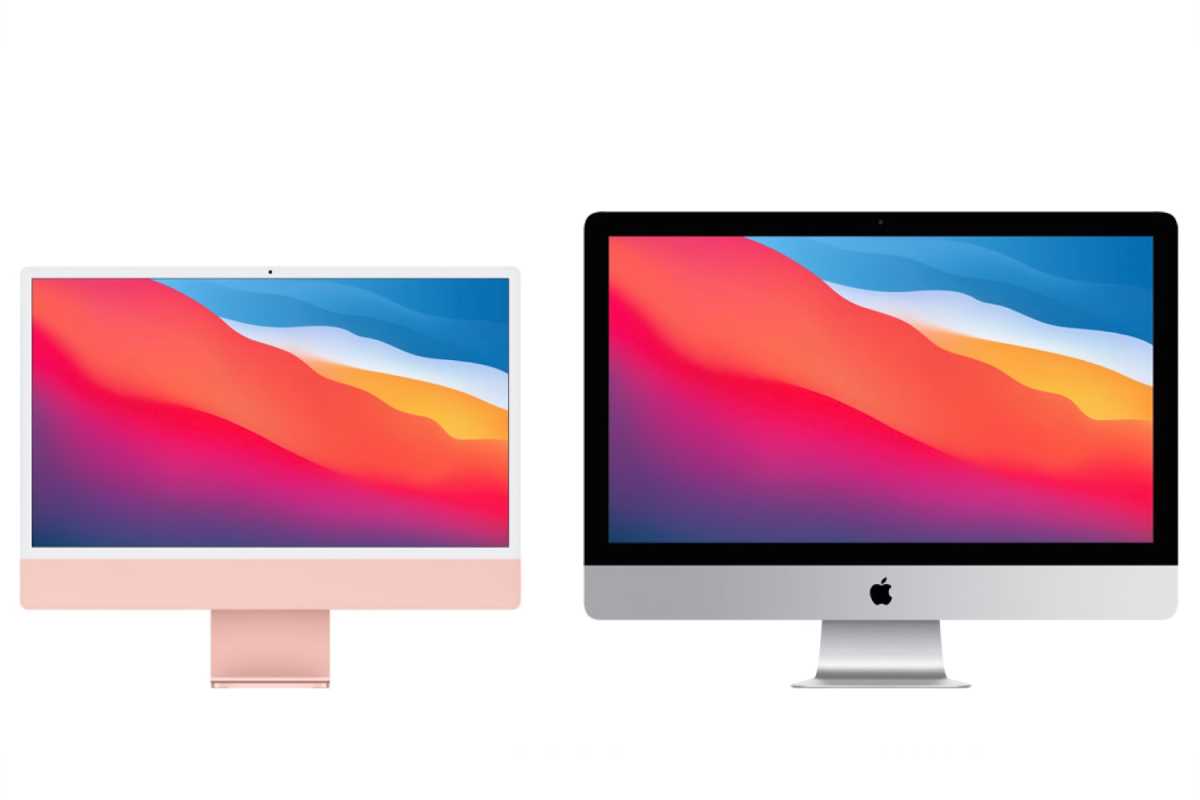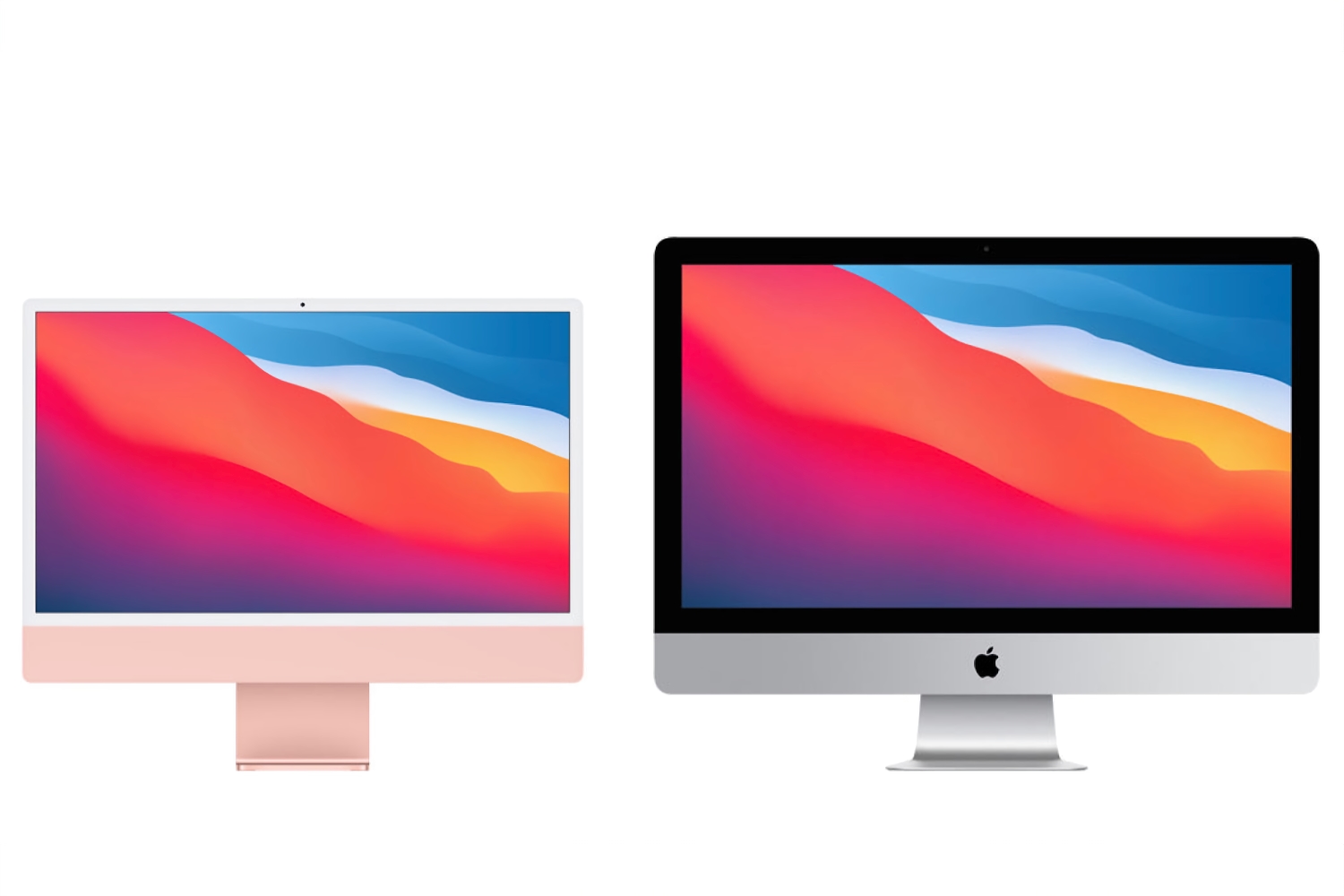 Apple
2022 iMac Pro: Screen size & technology
Display analyst Ross Young and others have stated that the iMac Pro will have a 27-inch display, which we have to admit to being disappointed by. However, the observations about a 27-inch display may have referred to the Studio Display. There could still be a iMac with a larger display in the pipeline.
A larger display would certainly make the iMac Pro more attractive to potential buyers. Next to the 24in iMac, with its 4.5K display (4,480 x 2,520 pixels), the 27-inch iMac only looks slightly more impressive with its 5K display (5,120 x 2,880 pixels). But it's not only the 24-inch iMac that the iMac Pro will be compared to – the 27-inch screen also doesn't compare particularly favourably with many modern displays that are larger than 30-inch (including the 32-inch Apple Pro Display XDR).
Perhaps new screen technology will allow Apple to squeeze in more pixels into a 27-inch display, but we would like to see a 32-inch display on the new iMac Pro.
A larger display could be possible without increasing the size of the iMac significantly. The 27-inch iMac measures 25.6 inches wide, 20.3 inches tall, and 8 inches deep, and while Apple's new design helps make the 24-inch iMac smaller than the 21.5-inch iMac it replaced, there isn't that much of a difference in size (21.5 inches x 18.1 inches x 5.8 inches (with the stand) vs 20.8 inches x 17.7 inches x 6.9 inches).
The new iMac Pro wouldn't actually need to be as big as the Pro Display XDR to offer a 6K display. A 30in display with smaller bezels could still accommodate the 6,016 x 3,384 pixels for Retina 6K resolution and a 6K iMac.
Display technology
To get an idea of what we could expect with the display in the larger iMac, let's look at what's being used in the current iMac lineup, as well as the Pro Display XDR and Liquid Retina XDR in the MacBook Pro.
24-inch iMac: 4.5K Retina display (4,480-by-2,520 resolution) 500 nits brightness, wide color (P3), True Tone technology
27-inch iMac and iMac Pro: 5K Retina display (5,120‑by‑2,880 resolution), 500 nits brightness, wide color (P3), True Tone
Liquid Retina XDR MacBook Pro: 2K/3K Retina display, 1,600 nits peak brightness, 1,000,000:1 contrast ratio, wide color (P3), True Tone
Pro Display XDR: 6K Retina display (6,016-by-3,384 resolution), 1,000 nits (XDR) or 500 nits (SDR) brightness, wide color (P3), True Tone
Studio Display: 5K Retina display (5,120-by-2,880 resolution), 600 nits, wide color (P3), True Tone
The upcoming larger iMac will have smaller bezels than the 27-inch iMac and iMac Pro, which could help the display reach a higher pixel density without having to make the display much bigger. A rumor by Ross Young in October and a follow-up report in December claims that Apple will bring a Liquid Retina XDR display with "around 1,000 zones and over 4,000 mini-LEDs" to the iMac. That would be fewer than the 10,000 mini-LEDs in the iPad and the 8,000 mini-LEDs in the MacBook Pro, though it would likely be visually indistinguishable due to the size and viewing distance.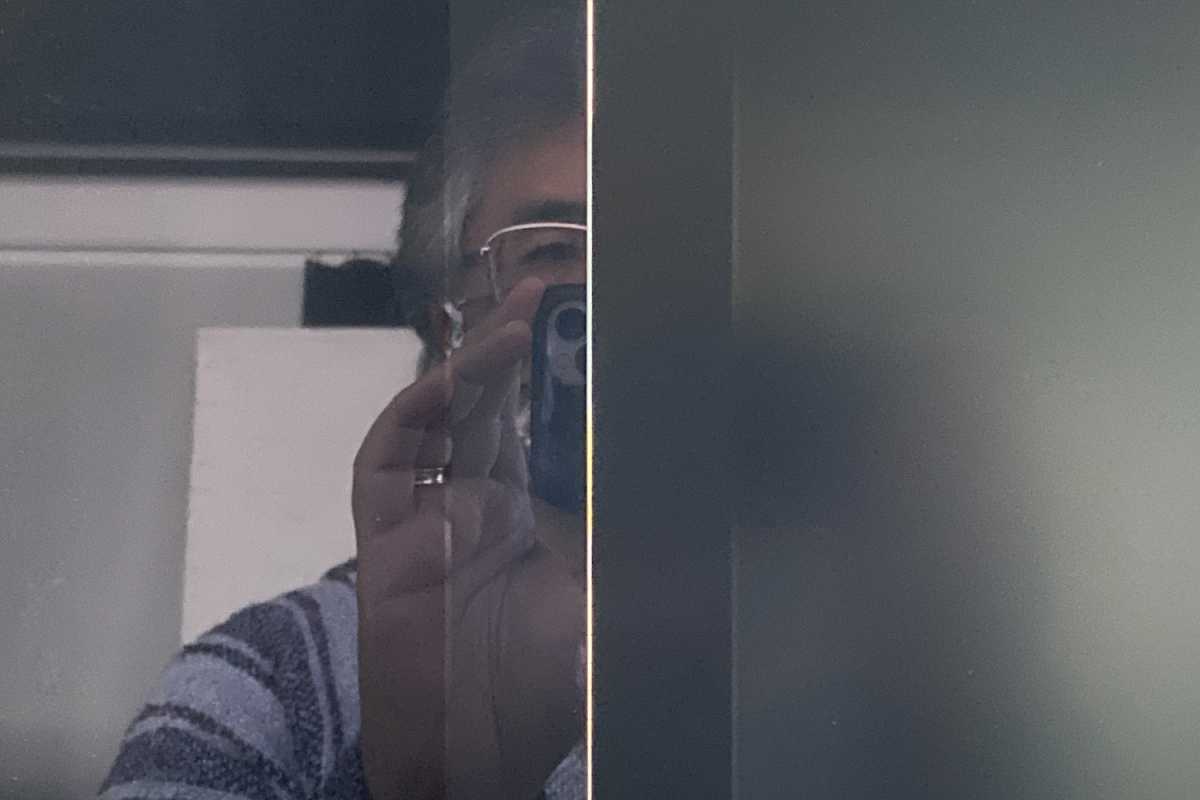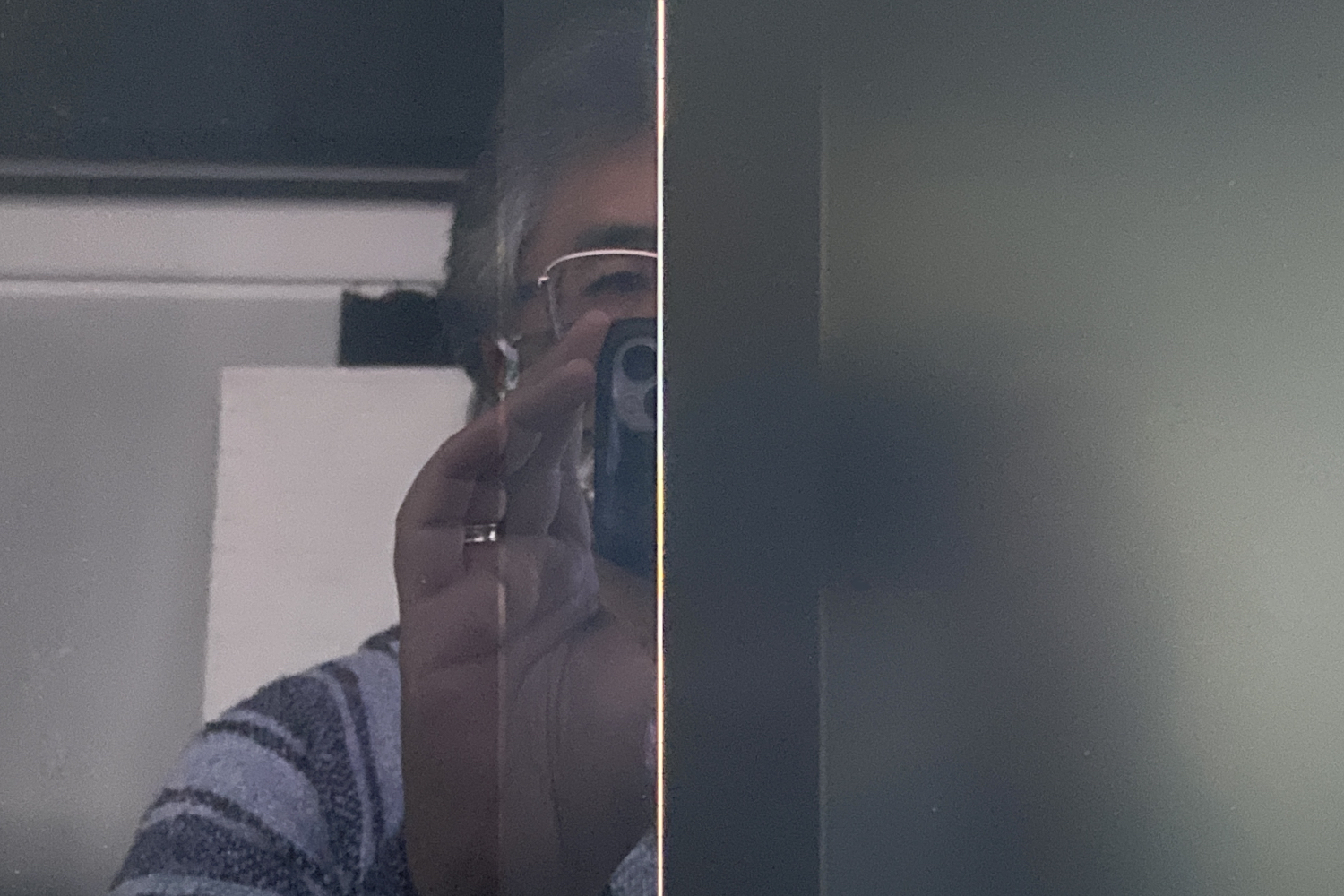 IDG
The 27-inch iMac used to ship with standard glass on the front of the display, but (for $300) Apple offered a nano-texture glass that provided a matte-like finish and did a good job of cutting down glare. Apple will probably continue to offer this with the new iMac Pro. As you can see above, it dramatically cuts down on the gloss and glare.
2022 iMac Pro: Processor
The Mac Studio is a great desktop Mac, but it offers only the choice of the M1 Max or M1 Ultra. There are desktop Mac users who would like to see a desktop Mac housing the M1 Pro. While this could be the future of the Mac mini model that currently offers an Intel chip, we'd like to see it in a iMac Pro.
The iMac's slim profile is similar to the MacBook Pro, which indicates that the M1 Pro or the M1 Max will work well. In benchmarks, the M1 Pro and M1 Max processors have performed well against the discontinued 27in iMac and iMac Pro models. There is some doubt as to whether we will see the M1 Ultra (as seen in the Mac Studio) inside this Mac though due to the thermal management requirements.
Bloomberg's Mark Gurman reported in January 2022 that the iMac Pro would have "similar chips to the M1 Pro and M1 Max processors inside of the MacBook Pro."
2022 iMac Pro: Graphics
The M1 Pro offers a 14-core or 16-core GPU (14-cores on the entry-level) while the M1 Max GPU is even better – offering 32-cores.
Should Apple be able to use the M1 Ultra inside the iMac we could see a 64-core GPU.
2022 iMac Pro: RAM
In the October 2021 tweet (above) Dylan suggested that there would be 16GB RAM as standard in the new iMac Pro. If the M1 Pro and M1 Max are included then that suggests that the new iMac will be able to support 64GB RAM, which is less than the 128GB RAM currently supported.
It may however be possible to support 128GB RAM in the new machine if Apple can use the M1 Ultra.
The current 27-inch iMac has RAM slots that are user-accessible. With Apple silicon, RAM is built into the SoC, and if Apple also insists on maintaining the thinness of the iMac, there's a good chance that the RAM will not be user upgradable. However, Apple introduced options up to 64GB with the M1 Pro on the MacBook Pro, so we doubt memory will be an issue for pro users.
2022 iMac Pro: Storage
Dylan's October 2021 tweet also suggested that there will be 512GB storage as standard with the new iMac (Pro).
That would be an improvement on the 256GB offered in the entry-level 27in iMac prior to it being retired. But it would follow the pattern of the 2021 16in MacBook Pro which has 512GB and 1TB options for the standard machines (and 8TB as a build to order option, matching the 27in iMac).
2022 iMac Pro: Ports and expansion
The 24-inch iMac comes with two USB 3 ports, two Thunderbolt 4 ports, and a headphone jack. After Apple launched the MacBook Pro with HDMI and an SDXC card slot, rumors suggest the iMac will follow suit. The thin enclosure could be an issue, but Apple solved that issue on the 24-inch model by putting the headphone jack on the side. Apple could position the SD slot similarly to avoid making the iMac thicker. We doubt that Apple will keep USB-A ports around, however.
For the $1,499/£1,499 and $1,699/£1,699 24-inch iMac, Apple placed the ethernet port in the power adapter brick. The same power adapter is likely to be used for the larger iMac as well.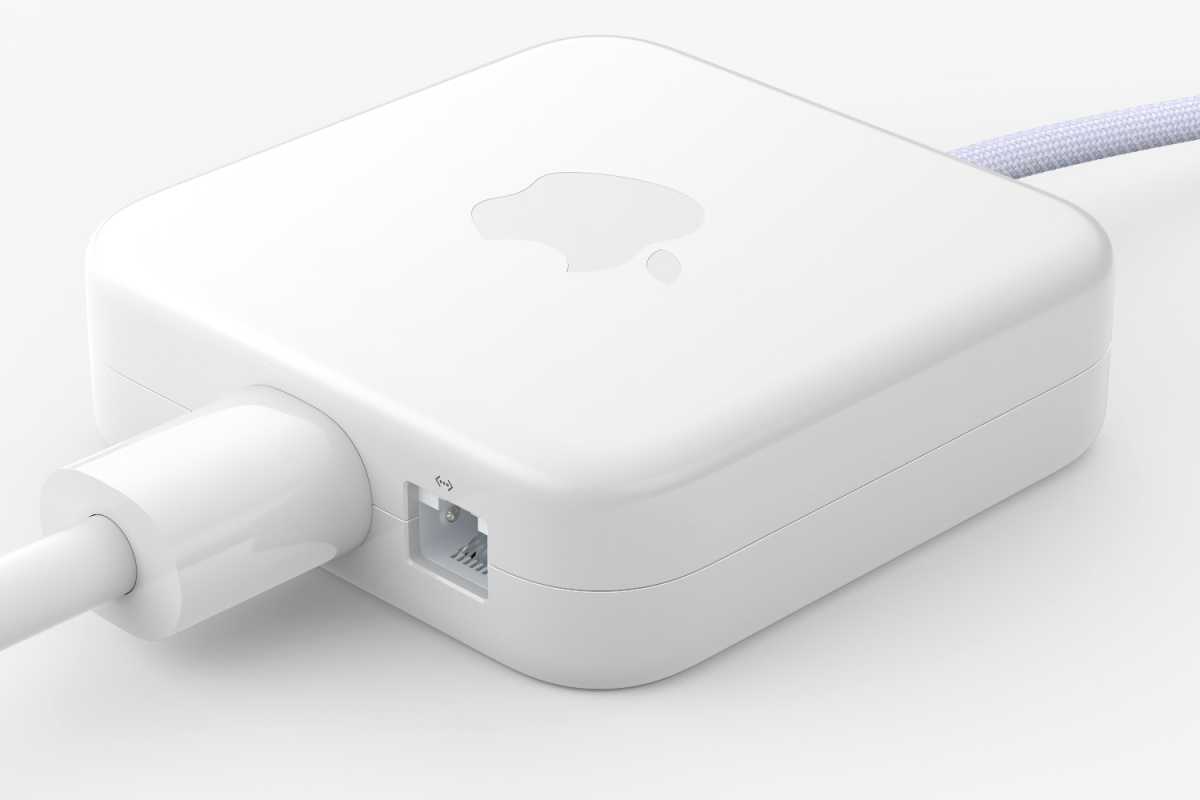 Apple
2022 iMac: Other features
The 24-inch iMac and new MacBook Pro have improved FaceTime cameras that use the M1's ISP to provide better image quality. That same FaceTime camera implementation is expected for the larger iMac Pro as well. A November leak suggested that it is possible that the camera could support Face ID, since True Depth references were spotted in macOS Big Sur, though the MacBook Pro doesn't support Face ID despite having a wide notch. If it doesn't have Face ID, it will likely have Touch ID built into the keyboard like the 24-inch iMac.
2022 iMac Pro: Price
As for the price, it will likely fall in line with the pricing of the 27-inch iMac, which started at $1,799/£1,749 since Apple kept similar pricing to the 21.5-inch iMac when it launched the 24-inch model. It's also possible that the price will be a bit higher, perhaps starting at over $2,000/£2,000, which would be more in line with Apple's price increase for the higher-end MacBook Pro.
iMac
Three Google features Apple should borrow for its next big thing
The larger technology companies get, the more and more commonalities there seem to be between their products. That's probably not surprising: after all, if only a couple of huge companies are developing smartphone operating systems, chances are they'll get closer and closer over time as companies borrow from each other, playing leapfrog as they continually innovate.
Like any giant company, Apple's no stranger to having features similar to those in its products rolled out by competitors. But it's also hardly one to ignore a good idea, even when it's created by a rival (for example, the graphical user interface on desktop computers).
This past week, Google held its annual I/O developers conference, at which it showed off a ton of new devices and features for its products. And, as always, there were those who noted that many looked like they'd been pulled directly from Apple products. So, turnabout being fair play, here are a few places where Apple might be able to take a cue from one of its biggest competitors.
Right side up
The iPad is the undisputed leader in the tablet industry. No other company has come even close to the success that Apple has seen in this category. But that doesn't mean everyone else is going to stop trying. Google announced last week that it would be rolling out its own Android-powered tablet in 2023 and gave a quick preview of the device.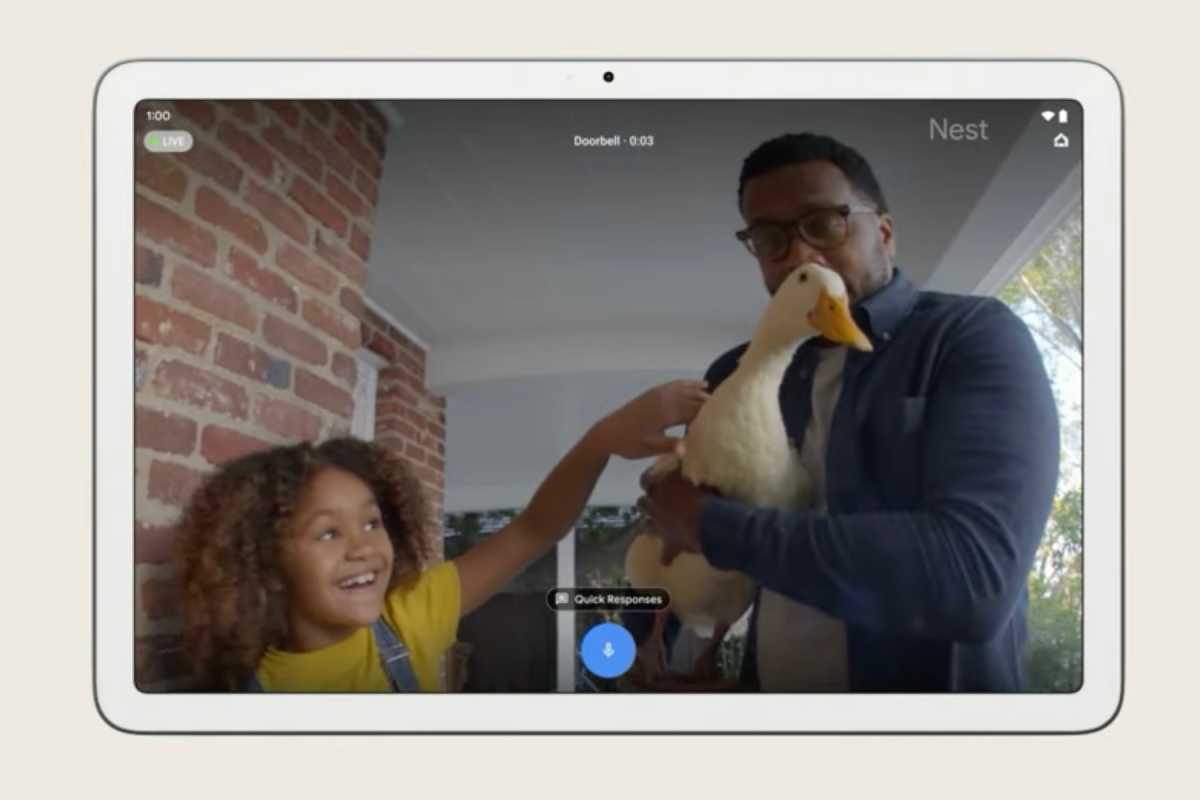 Google
Which, unsurprisingly, looks a lot like an iPad. Granted, a tablet is a device that's basically all-screen–how different could it look, really?
However, there was one significant difference: the Pixel Tablet's front-facing camera is in the middle of the long edge of the display and, from what little Google showed off, the company seems to be pushing the idea that it's primarily a landscape device. That's one thing Apple could do better: its front-facing iPad camera remains tethered to one of the iPad's short edges, which not only makes video conferencing calls a pain (wait, where am I looking again?) but also detracts from the experience on devices with Face ID, where you seem to be constantly getting that "Camera is covered" message.
Apple already sells covers that are designed to prop the iPad in landscape mode and keyboards that basically turn them into laptops. Landscape is clearly the orientation of choice for users, but apparently, that front-facing camera has yet to get the message.
Talk to me
Voice assistants remain a hot area for tech companies, with Siri, Google Assistant, and Alexa all battling it out. Google's spent a lot of time in its latest updates improving the reliability and ease of talking to the assistant, introducing a Quick Phrases option, which lets you choose several commands that can be issued without having to say the voice assistant's wake word (i.e. "Hey Google), a Look and Talk feature that tells the Google Assistant when you're talking to it and thus doesn't require the wake word, and better comprehension when you pause or don't remember the exact word for something.
Google
All of these are innovations that Siri could dearly use. In particular, the Look and Talk feature seems like one that Apple has all the ingredients for, at least on devices equipped with Face ID. And if the company is planning on moving into the "wireless speaker with a screen" segment of the voice assistant market, that feature would be a particular boon there.
I'm a little more mixed on Quick Phrases, if only because we've all become so accustomed to addressing our virtual assistants when talking to them, but I appreciate that Google allows you to choose which phrases you want Google to listen for. And Apple absolutely needs to improve Siri's recognition of halting speech or forgotten words in queries: many has been the time that I ended up with the assistant eagerly playing the wrong song–usually at a very loud volume–when I stumbled my way through a title.
Found in translation
One of Google's final announcements in its I/O presentation was also its most ambitious. CEO Sundar Pichai introduced a video demoing a new pair of augmented reality glasses–specifically, a feature that can interpret a foreign language and display the translation on a heads-up display, like subtitles for real life.
Apple's spent no shortage of time playing up its AR ambitions over the last several years, but what it's yet to deliver is a killer feature, especially when it comes to why people might be willing to wear a pair of glasses on their face. By anchoring its AR ambitions with an application that's both intended to keep you in the real world and highlights the elements of accessibility that Apple likes to talk about, Google seems to have somewhat stolen Cupertino's thunder.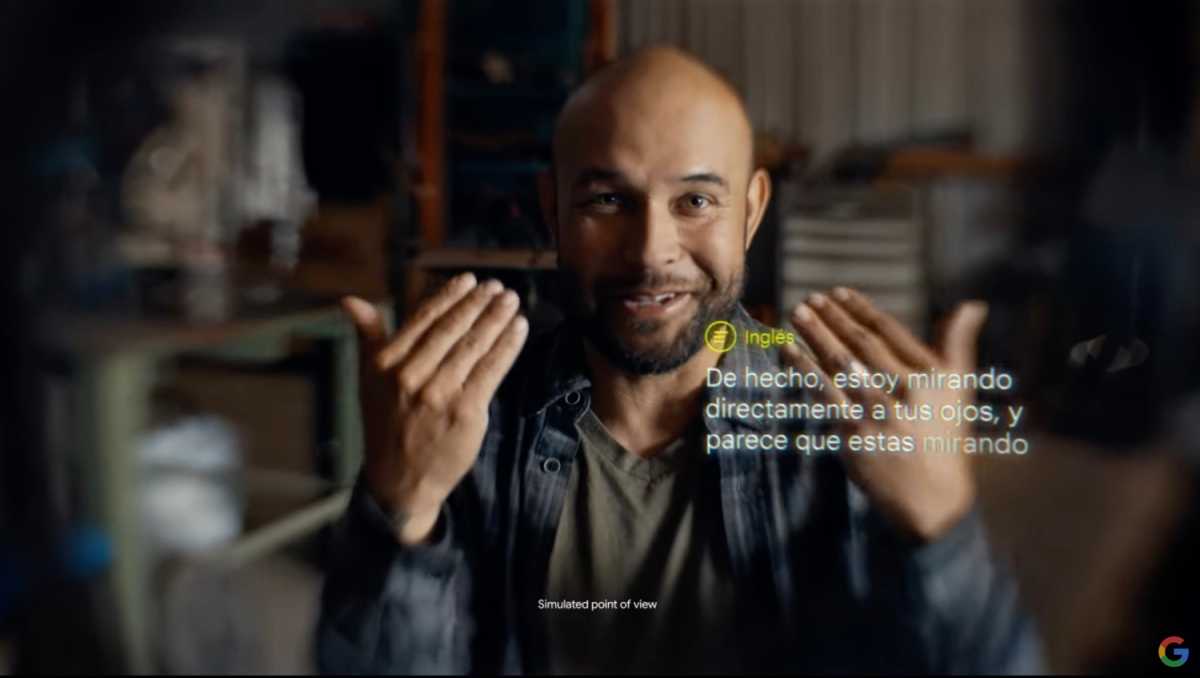 Google
This isn't to say that Apple doesn't have its own killer AR feature up its sleeve. It's delved into translation in a big way with its Translate app, first introduced in iOS 14. But Google still has a big head-start in this department, so even if Apple does roll out its own AR translation feature, it may have a lot of catching up to do.
Still, AR and VR are poised to be the next major battlefield for big tech, so this will hardly be the last time we see companies borrowing features from each other in a constant game of one-upmanship. And as long as that process makes the products better for the users, what's a little borrowing between friends?
Apple, Augmented Reality, Google, Tablets, Voice Assistants
How to connect two Macs without a network
A network is great, but what if you just want to connect two Macs and transfer gobs of information as fast as you can? Using a gigabit ethernet cable or a Mac with 802.11ac (Wi-Fi 5) or later wireless networking hardware, you can transfer data between two devices at gigabit per second rates, but you can do better than that!
Apple offers four built-in methods in macOS, none of which are obvious to set up. Each of them has different requirements, advantages, and tradeoffs. Once connected, you use the same tools to transfer information between two Macs as you would if they were connected to a network:
SMB file sharing: In the Finder, choose Go > Connect to Server (Command-K) and click Browse. If the Mac doesn't appear in the Network window, go back to Connect to Server, enter smb:// followed by the other device's network-assigned or self-assigned IP address, and click Connect. (A self-assigned address means the computer couldn't find a DHCP server, which assigns out addresses and provides a path to the Internet.)
Bonjour: A Mac connected with any method below should be discoverable via apps that support Bonjour.
Direct app support: Some apps build in their own network services and should simply identify another Mac running client or peer-to-peer software.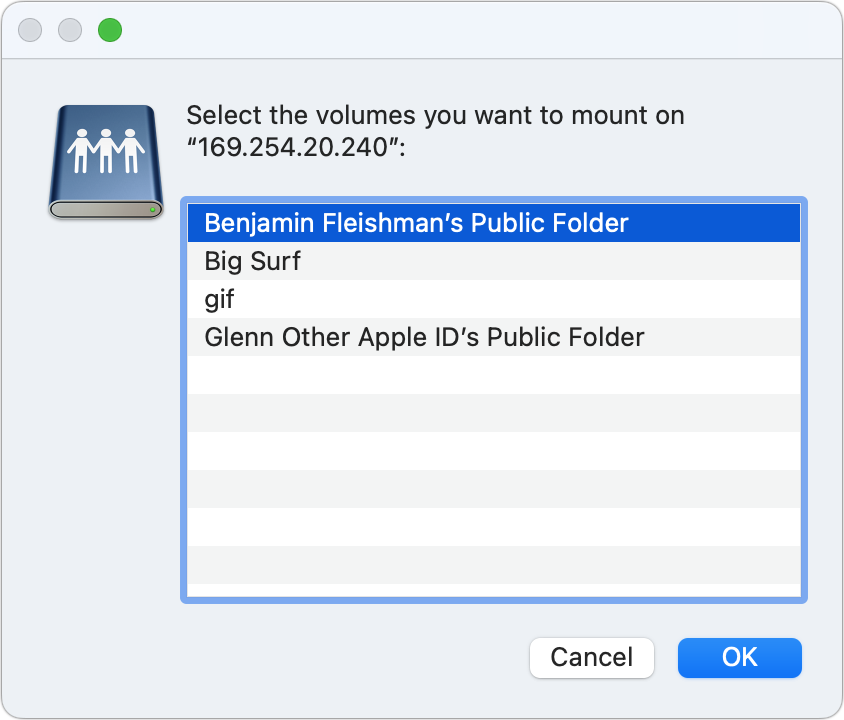 Here are the four methods, from fastest to slowest.
Connect via Thunderbolt
Thunderbolt has long included a computer-to-computer mode that allows a 10Gbps connection. While that's a fraction of its current 40Gbps data path for drives, peripherals, and displays, it's speedy enough! (This method works with Windows and other computers that have Thunderbolt support, too.)
In my testing using a Thunderbolt 4 cable between two M1 Macs, I was able to get 4Gbps of sustained writes and 8Gbps of sustained reads using a speed-testing app, and 5Gbps in copying large files from one Mac to the other. Both rates are far above gigabit ethernet.
It's vitally important that you have a USB-C to USB-C cable designed for Thunderbolt 3 or 4. Buy it from a company that has a good track record, such as Anker, Belkin, CalDigit, and Other World Computing, to name four of many. If you already own a USB-C cable, check that it has a lightning bolt symbol on plugs at both ends; it should also bear a 3 or 4, though Apple omits that, oddly enough. You don't want a USB-C charge-only cable (typically unmarked ends) or a USB 3-only cable (typically a USB symbol and SuperSpeed+ or SS+, SS 10, or SS 20 label).
If you have one or two older Macs with Thunderbolt 2, you can use a Thunderbolt 2 to Thunderbolt 2 cable or a Thunderbolt 3 or 4 USB-C cable with a Thunderbolt 2 adapter on one end.
Here's how to set it up:
Connect the two computers with a cable via any of their Thunderbolt ports.
Open System Preferences > Network and make sure Thunderbolt Bridge appears in the list of interfaces at left on both Macs. If not, click the + (plus) and select Thunderbolt Bridge to add it, click Create, and click Apply.
With the bridge interface in place and the two Macs connected, you should see a yellow dot and Self-Assigned IP appear under the interface name.
Note the address of each computer, which will be something that starts 169.254. like 169.254.14.103. You'll need that for SMB connections as described above.

To disconnect, simply unplug the Thunderbolt cable.
Connect via 1Gbps to 10Gbps ethernet
macOS can also automatically configure a network connection over ethernet between two Macs with the same outcome above: a self-assigned IP address. Some Macs—like the Mac Pro and Studio Mac—have built-in 10Gbps ethernet. Macs released in the last decade have 1Gbps ethernet, known as plain "gigabit ethernet." To use 1Gbps ethernet, you need a cable rated as Category 5E (or Cat5E) or higher; for 10Gbps, at least Cat6. (If you want to use 10Gbps on a local network, you can get a 10 Gbps ethernet adapter for Thunderbolt 3 or 4 for a whopping $199.)
Open System Preferences > Network and make sure Ethernet appears in the list of interfaces at left on both Macs. If not, click the + (plus) and select Ethernet to add that interface, click Create, and click Apply. Connect the two Macs with the cable, and you'll wind up as in step 4 above for a Thunderbolt cable.
You can connect with computers running other operating systems, as they generally also automatically create a self-assigned IP address and allow SMB and other networking services.
Performance should be up to 1Gbps with gigabit ethernet and match Thunderbolt performance with 10Gbps ethernet.
Create a Wi-Fi hotspot with your Mac
If there's no Thunderbolt or ethernet cable handy and no Wi-Fi network nearby, you can use your Mac to create a Wi-Fi hotspot, once called a software base station. (Apple began including this feature decades ago.)
Read "How to share a Wi-Fi connection via macOS" on how to configure one Mac to offer such a network. You use System Preferences > Sharing rather than the Network preference pane. (Visit the Network preference pane and it shows Internet Sharing: On as the Network Name for the Wi-Fi adapter.) Your Mac also shows an upward-pointing arrow inside the Wi-Fi fan to indicate network sharing.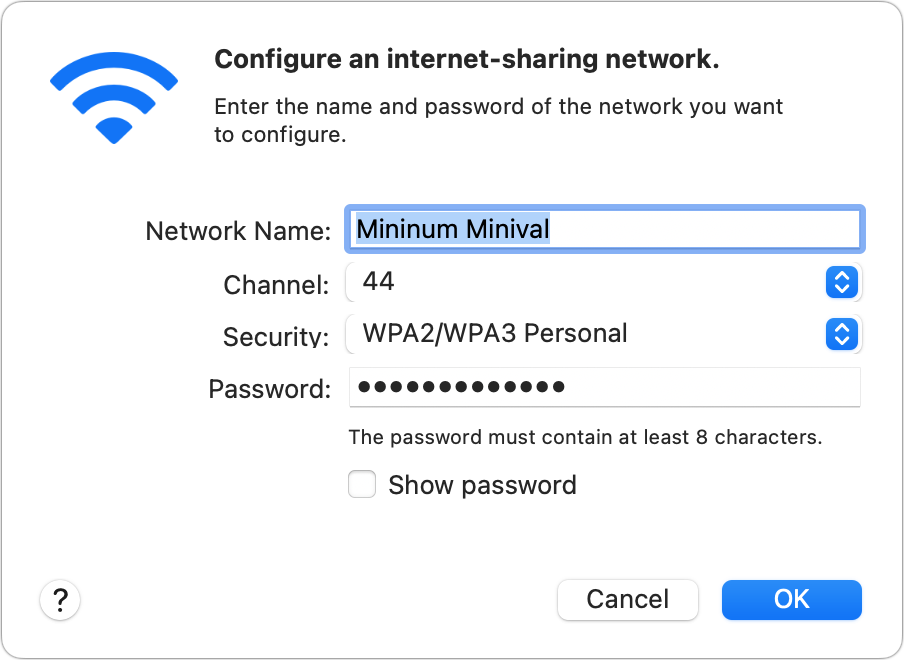 Once created, the Mac's Wi-Fi network can be selected by any device with Wi-Fi. That includes Macs, gaming systems, Android phones, and anything else. Because this is a shared connection, the machine connected to your Mac will be assigned an IP address by your Mac.
With my Macs—an M1 MacBook Air and M1 Mac mini—I achieved between 100 and 200Mbps of throughput, about half what I could manage via a Wi-Fi network to a gigabit internet connection.
A Mac-created Wi-Fi hotspot is good in a pinch when no other network or cables are available, but an 802.11ac (Wi-Fi 5) or later Wi-Fi router can offer more throughput, often making it a better choice.
Disable the Wi-Fi hotspot by unchecking the Internet Sharing service in the left-hand list in System Preferences > Sharing.
Create a computer-to-computer wireless network
As the last resort, you can revert to an older wireless method once known as ad hoc. It's out of date and lacks Wi-Fi security. Still, it has very little overhead because it's a peer-to-peer connection—just make sure nobody is in range who could sniff your unencrypted wireless data.
Your maximum throughput will be relatively low. I measured below 100Mbps, even lower on average than with a Mac-created Wi-Fi hotspot.
Follow these steps:
On both Macs, go to System Preferences > Network, select your Wi-Fi adapter in the left-hand list and click Advanced.
Check "Show legacy networks and options" and click OK and then click Apply. (This is needed only in the last few releases of macOS.)
In the Wi-Fi menu on the Mac on which want to create the network, select Create Network.
Name the network and choose a high-numbered channel (36 or above), as that allows higher throughput, and click Create.
When warned about creating an unsecure network, click Create.
The icon in the Wi-Fi menu changes to show a tiny display within a Wi-Fi fan shape. Click the icon, and you see the network listed under Device.
From the other computer, click the Wi-Fi menu and click Other Networks. The sharing Mac's network appears under Device. Select it. (This may work with some non-Mac computers and mobile devices, too.)
The connected Mac's Wi-Fi icon will also change to the display-within-a-fan.
To disconnect, click the Wi-Fi symbol to the left of the network's name on the Mac that's sharing. Turn off the network on the Mac that's sharing by clicking that Wi-Fi symbol under Device.
Ask Mac 911
We've compiled a list of the questions we get asked most frequently, along with answers and links to columns: read our super FAQ to see if your question is covered. If not, we're always looking for new problems to solve! Email yours to [email protected], including screen captures as appropriate and whether you want your full name used. Not every question will be answered, we don't reply to email, and we cannot provide direct troubleshooting advice.
Mac
Logos define your brand. BuildMyLogo can create one for just $29.99
There's no more recognizable piece of brand identity than a company logo, but for small businesses, getting it right isn't easy. These companies often spend anywhere from $300 to $1,300 or more on their logo, which isn't cheap. The Complete Logo Kit by BuildMyLogo can take the burden of creating or paying to create a logo right off a business owner's shoulders.
Simply enter a brand name and answer a handful of questions. BuildMyLogo uses those details to draft logo options that fit your project. It creates logos in real-time, and you can customize their styles and colors. Once finished, you receive a vector file with different color variations and file options. You can use your creation anywhere and in virtually any size you want, from a t-shirt or hat up to a billboard. BuildMyLogo can even illustrate how your logo would look on various promotional products.
Whether you need one logo for a new business or several logos for multiple initiatives, the Complete Logo Kit by BuildMyLogo makes the process ridiculously simple. You can get lifetime access today for $29.99 or 25% off.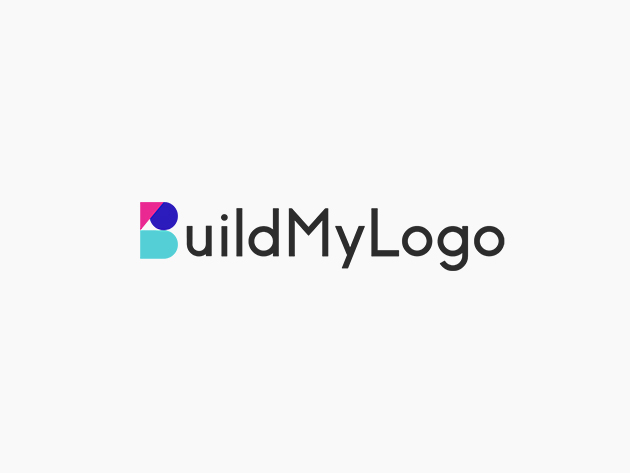 The Complete Logo Kit by BuildMyLogo – $29.99
Prices subject to change
Graphic Design Tools
macOS Monterey: How to change the cursor color on your Mac
The Mac's cursor is designed with a white outline and black fill. It's a good combination, making it easy to spot no matter what is on screen. But man, is it boring. In past versions of macOS, you can't change the cursor color without using a third-party utility. That changed in macOS Monterey, though.
With Monterey, you can easily change the colors of the cursor to something that is easier to catch with your eyes or just add some flair to reflect your personality. You can find it in the Accessibility pane in System Preferences. You can see how it's done in the video below, or read on for instructions.
How to change the cursor color in macOS Monterey
Go to System Preferences and click Accessibility.
In the left column, look for the Vision section and select Display.
Click on the Pointer tab in the section to the right.
You'll find two settings here, Pointer outline color and Pointer fill color. Click the color swatch button next to each setting and the Colors selection palette will appear. Select the colors you want. If you want to revert back to the default white and black, click the Reset button.
Close System Preferences.
IDG
MacOS
Five Google IO announcements you can try now–on your Apple device
At its annual IO conference Wednesday, Google unveiled a slew of new products, features, and services that will roll out over the following months. We got a peek at a new Pixel tablet, watch, and phone, a new budget Pixel 6a, the first Android 13 public beta, and exciting search, AI, and app updates.
But here at Macworld, we couldn't help but notice how familiar many of the announcements sounded. There were more than a few features unveiled at IO that are seemingly ripped straight from Apple's playbook. Here are 5 features coming to Google and Android devices that Apple users have been enjoying for years:
Google Wallet
One of the biggest app announcements at IO was the conversion of Google Pay to Google Wallet. Granted, Google Wallet was a thing before Apple Card, but this latest iteration takes more than a few cues from the iPhone app. The new Google Wallet, launching soon, is your one-stop place for your digital life, storing digital IDs, boarding passes, concert tickets, vaccination cards, loyalty cards, car keys, and of course, credit cards. Speaking from experience, Android users will love it.
Better tablet apps and multitasking
To put it mildly, Google's tablets aren't exactly in the same league as the iPad. With Android 13, Google is looking to change that by stealing a little from Apple's awesome tablet experience. Among the new features coming to Android tablets is easy multitasking that lets you use apps side by side and new interfaces "to take full advantage of the extra space including YouTube Music, Google Maps, Messages and more." We're not sure if that's gonna put much of a dent in Apple's tablet dominance, but hey, better late than never.
Copy and paste from phones to tablets
Apple users have long had the ability to copy something on their iPhone and paste it on their Mac thanks to the power of Handoff and iCloud, and now Google is bringing the same thing to phones and tablets in Android 13. According to Google, "you'll soon be able to copy a URL or picture from your phone, and paste it on your tablet." The system (seen below) seems a bit clunkier than Apple's utterly seamless Universal Copy and Paste, but hey, it's a start.
Google
Pixel Buds Pro
Google unveiled and teased a bunch of hardware announcements during its IO keynote, including the new budget Pixel 6a, but the most intriguing was the Pixel Buds Pro. While no one would confuse the Pixel Buds A-Series wireless earbuds with AirPods, the Pixel Buds Pro have a very similar feature set to AirPods Pro. You get noise-canceling, transparency mode, spatial audio, and 'find my' tracking, and an in-ear design that seems awfully similar to the rumors of the AirPods Pro 2. Call them rivals if you must, but we'll just call 'em copycats.
Digital Crown
Google stopped a little short of releasing its first-ever wearable at Google IO, but it did finally confirm the existence of the Pixel Watch. Like other Android Wear OS watches, it has a circular design with a fairly sizable bezel and a new "tactile" crown that appears to be Google's version of the Digital Crown on the Apple Watch. We don't know if it'll be as smooth as Apple's or have a built-in ECG sensor, but the concept and the look is practically identical.
Apple, Google